TLC LIFE GROUPS
Jesus taught us to live in
community and
experience life together.
We Believe in the "One Anothers"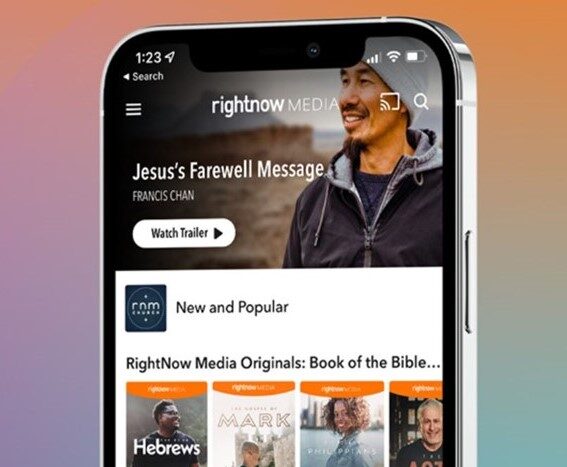 RIGHTNOW MEDIA
FREE access to +20,000 Bible Study Videos –
Anytime, Anywhere, From Any Device!
Create your FREE account & start browsing today!
NEXT SEMESTER STARTS
MARCH 15, 2023.
Wednesday Night LIFE GROUPS
Start March 15 @ 6:30pm
Childcare Provided
Each group is limited to 10 people for maximum effectiveness.
The Gospel of John (Pt. 2)
A 9 week study by Dr. Tony Evans
Facilitator – John Kateley
Dr. Tony Evans returns for the eagerly anticipated The Gospel of John: Part 2. The second half of John shows us the love of the Father displayed in his Son. In this nine-session series, you will study Jesus's last days, crucifixion, and resurrection.
Through John's Gospel, Dr. Evans will show us the heart of God, the one who is ready to offer us hope and restoration in eternal life with him.
Having a Mary Heart in a Martha World (Women's Group)
A 12 week study by Joanna Weaver
Facilitator – Cyndi Hughes
Join best-selling author Joanna Weaver as she explores how to blend intimacy with Jesus and service for Him in the midst of our busy lives.
Moving chapter by chapter through Having a Mary Heart in a Martha World, Joanna invites us to recognize that each of us has some Mary and some Martha within. Every day, a part of us wants to leave our tasks and soak up time with Jesus. Yet we also know we can't abandon our responsibilities.
Come discover the best of your Mary and Martha desires as you strengthen your relationship with the God who invites you closer.
Thursday Night LIFE GROUPS
Start March 16 @ 6:30pm
Childcare Provided
Each group is limited to 10 people for maximum effectiveness.
The Book of James
A 12 week study by Francis Chan
Facilitator – Pastor Bill Register
True faith produces fruit. A faith without action and without life change is ultimately a dead faith. The book of James speaks to the realities of a living faith in Jesus—the kind of roll-up-your-sleeves and get-your-hands-dirty discipleship that is borne out of an authentic relationship with the risen Lord. James writes to believers who know suffering, who've faced trials, and who ultimately desire a deep relationship with God.
Francis Chan unpacks the dense truth contained in the book of James in front of the iconic backdrop of San Francisco, the city where he lives and ministers. Through 12 sessions, Francis works through James verse-by-verse, challenging followers of Christ to move beyond a private, intellectual knowledge of God and His Word, to a vibrant faith that impacts every square inch of life.
The Prayer Course
An 8 week study by Peter Greig
Facilitator – Charlotte Atkinson
An eight session journey through the Lord's Prayer.
Conversation, testimony and teaching to help you, and your community, to grow and deepen your prayer life, one week at a time.
Anchors for the Soul
A 10 week study by John Mark Hicks
Facilitator – Cyndi Hughes
John Mark Hicks offers this video series to those who are suffering, grieving, or preparing for loss. Drawing on his own experiences with loss and suffering through the death of his young wife and, more recently, the death of his sixteen-year-old son, professor John Mark tells the story of God through his own experiences of suffering: God loves, listens, empathizes, reigns, and wins.
Through this ten-part video series, learn how to ground your faith in the storms of life with these anchors by going deeper into the content of the book on which this series is based, Anchors for the Soul.
This series is intended for groups of all kinds, including home groups, grief groups, support groups, divorce care groups, and loss groups. Each video corresponds with the book chapters, and pairs well with its companion workbook for individuals to process their grief, Journaling Through the Anchors for the Soul.