TLC LIFE GROUPS
Jesus taught us to live in
community and
experience life together.
We Believe in the "One Anothers"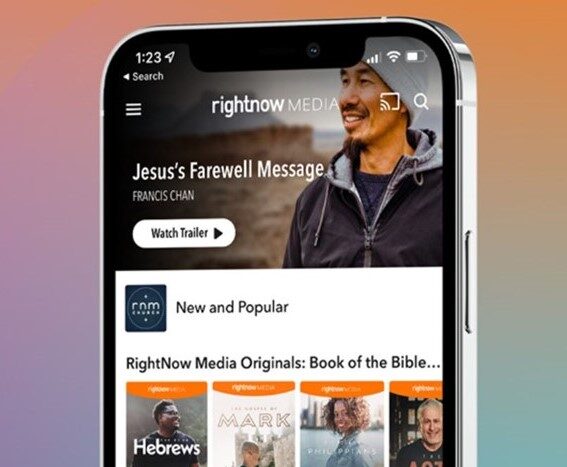 RIGHTNOW MEDIA
FREE access to +20,000 Bible Study Videos –
Anytime, Anywhere, From Any Device!
Create your FREE account & start browsing today!
Wednesday Night LIFE GROUPS
Start September 7th @ 6:30pm
Childcare Provided
Each group is limited to 10 people for maximum effectiveness.
If You Could See As Jesus Sees
A 6 week study by Elizabeth Oates.
Facilitator – Yolanda Valliere
(Women's Group)
In a world that tells women they are never enough—never pretty enough, smart enough, or talented enough—God says we are exactly enough simply because He created us and we belong to Him.
If you have ever wrestled with identity or self-worth, if you have ever felt isolated or inadequate, if you have ever felt ashamed or discontent, then this 6-week video series, taught by author Elizabeth Oates, will speak to the needs of your heart and soul.
If You Could See as Jesus Sees helps women see themselves as Jesus sees them, instead of the way the world sees them. She helps women identify their core insecurities and the lies they believe about themselves, and then she reveals God's truth about how He sees all of us.
Join us in this fresh, new video series and start seeing yourself—not as the world sees—but as Jesus sees.
The Gospel of John
A 12 week study by Tony Evans.
Facilitator – John Kateley
Where do you turn when the world around you grows dark? In this study of the Gospel of John, Dr. Tony Evans encourages us to turn to Christ by reminding us of the two purposes for the beloved disciple's book—that we would believe in Jesus and find life in his name.
Despite what our culture may argue, there is only one hope that is truly trustworthy and that is our savior, Jesus Christ. So join Tony for this twelve-session series that will draw you back to the essential truths of our faith and the life found in our king.
The Book of Judges
An 11 week study by J.D. Greear.
Facilitator – Dr. Rob Knutsen
The book of Judges cracks a window into depths of the human soul. Watch a nation struggle with its identity and relationship to its God. Heroes and heroines arise, who seem to have the potential to save Israel. But in the end, each proves to be a broken savior that cannot deliver.
In this series, pastor and author J.D. Greear wades into the book of Judges to shine a light onto the muddy waters of human rebellion. The stories and truths within are not just archaic tales with no relevance for us today. Rather, J.D. works through each chapter unpacking the truth of God's grace in the midst of human wickedness, and shows how only the divine can redeem the fallen.
Thursday Night LIFE GROUPS
Start September 8th @ 6:30pm
Childcare Provided
Each group is limited to 10 people for maximum effectiveness.
How To Read & Study The Bible
A 5 week study by Benjamin Windle.
Facilitator – Dr. Dominic Rodriguez
Nothing else fuels our growth like personally engaging with the Bible. Yet, many people lack the practical tools to confidently study the Bible for themselves.
One can attend church for many years, and listen to a lot of teaching, and not learn how to read the Bible for yourself.
King David knew (at a very personal level) what it was to go through darkness in life. In Psalm 119, David reveals that the Word is a lamp for when the path of life turned dark.
We all need a lamp for dark times.
Today, we have a culture with no lamp. Where do we turn when life turns dark? How do we know what next steps to take, or how to get direction in life?
Learn how to use the Bible as a lamp for every question and challenge life throws at you. Get the skills you need (that absolutely anyone can use) to read and apply the Bible in your own life.
The Attributes of God
A 12 week study by Steven Larson.
Facilitator – Reggie Welch
Misconceptions about God abound. But they don't have to. God has revealed His character in Scripture, illuminating the attributes that define Him. While we, being finite creatures, can never truly comprehend everything that God is, we should study what He Himself has said.
In this 12-part teaching series, The Attributes of God, Ligonier Teaching Fellow Dr. Steven Lawson articulates a biblical understanding of divine attributes and explores how a right understanding of God can affect every aspect of our lives.
The Books of Galatians & Titus
A 12 Week study by Kyle Idleman & Chip Ingram.
Facilitator – Jason Knapp
If someone asked you to explain the gospel, what would you say? What is the good news of the Christian faith? Writing to the Galatians, Paul made it clear how easily we can be tempted to turn toward fraudulent gospels, especially those that teach we can earn God's love through our works. Though they may have the appearance of truth, they are lifeless and leave us empty in the end.
Kyle Idleman dives into the book of Galatians, one that contains some of the clearest explanations of the gospel in the New Testament. Through biblical study and engaging lessons, Kyle shows that true freedom is found in surrender, not self-dependence. Because our gospel is not one based on our works, but faith in the finished work of Jesus Christ.
Chip Ingram unpacks the book of Titus. He challenges us to display the gospel in our lives through doing good. We do good works not to earn God's favor, but as a result of God's favor. When the gospel has truly taken root in our lives, it produces the fruit of godliness. As we pass these things on to future generations, the Church stands in bright contrast to the darkness of the world.